Gianni Vecchiarelli
Gianni Vecchiarelli (Clinic Owner) is passionate about helping people meet their health and weight loss goals. Gianni began his health and wellness career in Colorado's leading fitness club over 20 years ago. Working with physique trainers and designing gym programs to fit his customer's specific lifestyle needs gave him a vision for a lifelong personal journey of health. As Gianni started a family, he joined a company outside the health and wellness industry and began traveling the globe. Travel is tough on the body, and no matter how many hours he spent in the gym each week, Gianni recognized that as we age or our priorities shift, maintaining a healthy lifestyle can sometimes feel impossible.
Gianni believes that achieving and maintaining a healthy weight is not just about following a strict diet or exercise plan but about making sustainable changes to your lifestyle and mindset – and often, we all need just a little help. So, he returned to his first passion for assisting individuals in achieving their health and weight loss goals in a healthy, sustainable way. Thus, Medical Health Solutions was born, and Gianni could not be happier to be a source of knowledge, support, and answers to the hard questions about health and weight loss. He believes that everyone has the potential to lead a happier, healthier life, and he is dedicated to providing the resources needed to make that happen in his client's lives.
A native of Colorado, Gianni is a husband and father of two active children. He coaches his son's football, wrestling, and jiu-jitsu teams and recently discovered jiu-jitsu for himself to destress, sweat, and get that functional cardio in. In the summertime, you will find him climbing up the Castle Rock incline with his family in tow, which is much more enjoyable after 65+ pounds of weight loss!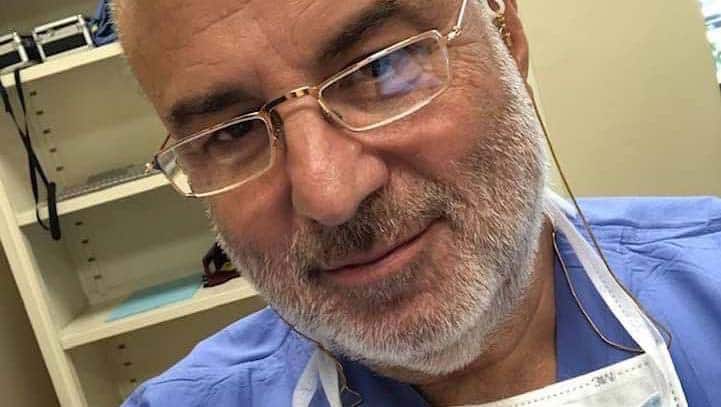 Arie Blitz, MD
Dr. Arie Blitz (Medical Director) is an independently practicing physician and one of our clinic's Medical directors. He attended Cornell University for his undergraduate degree in philosophy and the Albert Einstein College of Medicine in New York for his medical degree. Dr. Blitz completed a General Surgery residency at Montefiore Medical Center in NY and became board-certified in General Surgery. He completed a Cardiothoracic Surgery Fellowship at UCLA Medical Center in California and became board-certified in Cardiothoracic Surgery. In addition, Dr. Blitz has completed several advanced fellowships. He is board-eligible in Obesity Medicine and will be standing for his board exam in late 2023.
Dr. Blitz has served in several leadership roles, including as a full professor and President of the Cleveland Chapter of the American Heart Association.
Widely published in peer-reviewed journals and textbook chapters, Dr. Blitz is a sought-out speaker at national and international meetings and has appeared in both local and national media on numerous occasions.
We are happy to have Dr. Blitz seeing patients in our clinic.
Monica
Monica is our Medical Assistant. She has spent the last 18 years in the healthcare field, of which 15 of those were as an EMT. Having experienced her transformation with over 130 pounds of weight loss, Monica is passionate about helping others on their weight loss journey. She is a Colorado Native with five kids and one granddaughter; she loves animals, watching movies, and spending time with her family.
Eric Hendrickson
Eric Hendrickson has been assisting patients with their Healthcare needs for over 20 years. With his journey starting in Sports Medicine, the need for finding the appropriate avenue of care for each individual patient was paramount in determining the success of each individual. Over the years Eric began to incorporate his insight of the 'personal journey' into every aspect of HealthCare.
Believing that the 'personal journey' is what Eric feels is necessary, especially in someone's weight loss journey, is what drew him to Medical Health Solutions and their hands on approach. Encouraging patients and answering every question while setting then up for success is his main goal for every patient.
A transplant from North Dakota, Eric is a Husband and father of two young boys. Enjoying Golf and chasing his boys around is his 'personal Journey' to a continued healthy lifestyle.
Schedule a Consultation
To find out more about this easy-to-incorporate, safe and effective protein therapy, contact the staff at our medical weight loss center in Lone Tree. We offer healthy, long-term weight loss for life, not fads or fictional supplements.
Our clinic is staffed with a respected medical weight loss doctor and an experienced team that is 100% focused on your health and wellness. Our caring and compassionate team is excited, and more than ready, to start this new health journey with you.
Call Medical Health Solutions today For your first weight loss consultation at (303) 951-8617, and let's get started!